How will the Core Web Vital update
affect my website?
Have you heard of Google's Core Web Vitals? Well, they are a pretty big deal, and you will NEED to know about them if you want your website to succeed online.
With much speculation from agencies worldwide, Google put an end to those rumours by confirming Core Web Vitals will become ranking signals for search results in May 2021.
Without you even knowing, Google makes numerous updates throughout the year. Every week the browsing giants introduce new changes to their algorithm. Occasionally they may announce ranking factor changes. But most of the time, they will not! When they do announce these changes, they do it when it occurs something essential. Therefore encouraging people to make amends to their website before the update. Otherwise, they carry out updates for important things like HTTPS and other core signals.
But, the Core Web Vital is an update they have ACTUALLY announced. As a result, it is confusing to a lot of people. Therefore, we wanted to clarify what these ranking signals mean. But also, what we can do to diagnose and prepare for it. Consequently, you can ensure your website is ready and waiting. But, firstly, the big question…
What are the Core Web Vitals?
The Core Web Vitals are (in techy terms) real-word experience metrics. What that means to me and you is that Google is looking for signals to determine the users experience in terms of speed, responsiveness and visual stability of a page. Essentially, regardless if it is mobile or desktop, Google is checking to see if the user experience is good or bad. 
So, specifically, these signals can be defined as the Core Web Vitals, which are: 
Largest Contentful Paint

: This refers to the time it takes for a page's primary content to load. A good LCP measurement is 

2.5 seconds

 or faster.

First Input Delay

: This refers to the time it takes for a page to become interactive. A good measurement is less than 

100 ms

.

Cumulative Layout Shift

: The amount of unexpected layout shift of visual page content. An ideal measurement is 

less than 0.1

.
Google has said, "These signals measure how users perceive the experience of interacting with a web page and contribute to our ongoing work to ensure people get the most helpful and enjoyable experiences from the web". 
These Core Web Vitals join a group of metrics that calls Page Experience signals. Other signals include HTTPS, mobile-friendliness, safe browsing and no intrusive interstitials (pop-up ads). 

How will Google's Core Web Vital affect my ranking?
In short, this update will affect all search results – mobile and desktop. Of course, some SEO experts argue that Page Experiences are not worth worrying about. We know that Page Experiences is made up of elements we already know are essential. Such as HTTPS, mobile responsiveness and page speed. However, Core Web Vitals are a little different.
The newest Google update will influence SEO in different ways. As most SEO experts know, image optimisation is crucial as it can affect page speed while rendering a page. However, if a coder has not specified every image's height and width, this can lead to janky pages. Some website did this regardless of the user experience. For example, on most of its pages, Wikipedia has a predefined space for images created ahead of time.
But, marketer needn't worry about pages being jumpy as this did not affect rankings. However, with the new signals, including this as a ranking factor, we enter a whole new ball game.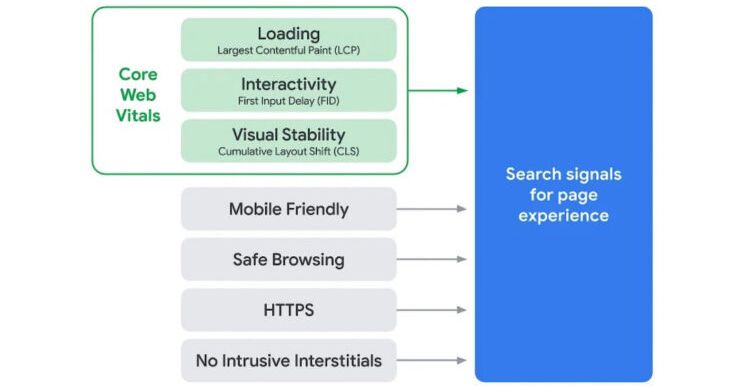 So, what are the three signals included in the Core Web Vitals?
1)

Largest Contentful Paint (LCP)
The first of the web vitals is LCP. In simple terms, this refers to how fast a page loads. Google measure how long it takes for a page's main content to download and be ready for a user to interact with. Google will measure the largest image or block of text from the viewpoint of the user. Anything which extends beyond the screen does not count. Consequently, typical elements which Google will measure are images, videos, background images and block-level text elements. Therefore, you ideally want your site to hit LCP within 2.5 seconds.
2) First Input Delay (FID)
Secondly, Google is asking is how quick the interactive elements on your website are? In other words, when a user clicks on something – for example a button – how fast can the browser start the process to give the result. Think about it. You are on a website, and you click a button, and nothing happens. It's not a good experience, and more than likely, you will go elsewhere. This is what Google measures within FID. 
Other examples of interactions include:
Choosing an option from a menu.

Clicking a link from a navigation bar.

Filling out a contact form and opening up accordion text.
FID is an important Page Experience signal as it takes into account real-life user interactions. 
3) Cumulative Layout Shift (CLS) 
Finally, there is CLS. Here, Google is referring to how stable a page and how it loads. In other words, if elements on your site move around as the page loads, then you would have a high CLS, which is bad.
A typical example of an unexpected layout shift would be with mobile experiences. So, when a user goes to click a button and just as they do the page shifts and hit something else, this would fall under CLS.
Instead of this, you want your page elements to be stable as it loads up. That way, users don't have to re-learn where links, images and fields are located when the page is fully loaded. Or accidentally click on something.
The most common culprits for instability not defining image sizes in the HTML or animations.
How big of a change is this update?
It is good to remember that Google has hundreds of ranking signals. Therefore, having a bad score with one signal is not great. But if your website is flawed in a few of the metrics, it could make a difference. 
Yet, for overall customer retention and usability, these web vital should be considered. Google's research shows that pages that met the three signals fo Core Web Vitals are 24% less likely to abandon the site. 
But, without Core Web Vitals being an official Google ranking factor, it is still important because it provides a better user experience. So even without the new signals, improving your user experience is still something we want to consider.
What can I do to measure and fix this?
The first thing you need to do is look in Google Search Console. Here they have a new report that will inform you of URLs they have indexed, whether they are 'poor', 'need improvement', or 'good'. 
If you have URLs which are 'poor' or 'need improvement', that is when you want to investigate. In the report, it will explain what's wrong and how you can improve those pages. Furthermore, every report in Search Console links to a report in Page Speed Insights. This will be the number one tool you will use to diagnose your issues with the new signals. This is powered by Lighthouse – a performance metric tool. With Lighthouse, you can run a test with any web page. Using this, you can discover what issues your website. But, we have until sometime in 2021 to address these things.
Overall, traditional ranking factors are still very much important. But, now you need to consider the user experience. Furthermore, you need to consider how pleasant the page is and how useful it is. From May, Core Web Vitals will contribute to Google determining your ranking. So to ensure your business' success online, make sure you comply with Google's newest algorithm. They have given us fair warning, so there are no excuses!
speak with geek
Fill out the details below and we will get back in touch with you with a quotation!