Want to hear a digital transformation success story? Well, sit tight, and let us tell you about our continuing work with DJL UK.
2015. The year when everyone fought over what colour THAT dress was, Adele's number one album '25' was released plus man-buns became a trend – what a time to be alive! (Also, side note: it was blue and black, FINAL).
But, additionally in that year, DJL UK, a little known home improvements business, came to us asking for help to expand their new business. So, we provided them with the answer – a digital transformation.
Fast-forward to 2019. With their dynamic website, effective digital marketing strategy,uniquely designed marketing materials and bespoke branding, DJL UK have been able to establish a thriving home improvements company that is continuing to evolve.
A success story? We think so (even if we are a little biased).
Bespoke website and logo design that reflects DJL UK brand.
We have worked closely with DJL UK over the years to help understand them as a business, ensuring we created a brand that was truly reflective of their requirements. But most importantly increased their sales. Therefore, our first step in transforming DJL's brand awareness was designing their logo.
Something original and bold needed to be conjured up, but that was no problem for our team! A simplistic design and colour scheme were selected to attract customers and easily explain the purpose of the business.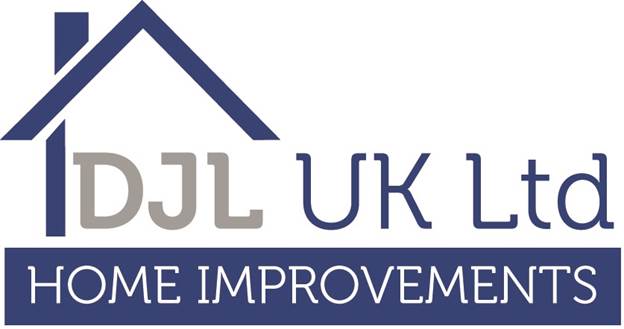 With an easily identifiable logo in the bag, we moved onto bespoke website development. Geek has designed and created two contemporary, UX responsive, seamless websites that is visually dependant.
Our designers developed the blue, white and grey colour scheme, maintaining consistency throughout the site to amplify its authenticity.
Moreover, the website highlights the core pushes of the company and appeals to their domestic client base. Additionally, we made sure we covered all our clients' specifications. Tailoring the site to meet their preferences and portray the brand how they envisioned.
Establishing a digital presence to capture audiences
With a new, modern and sleek website – a digital marketing plan was needed! Therefore after identifying the company's client base and where they wanted to progress – we could generate a strategy that would reach their target audience.
So, our digital marketers got to work. Daily social media management, monthly blogging, extensive SEO work and continuous creation of localised page content. All to rise through the ranks and become noticed.
Consequently, there have been 3 main aspects of our digital marketing plan over the past several years – all working together to generate leads and referrals.
Consistent social media posting to build engagement
We post a range of campaigns styles to retain the attention of existing customers on Facebook. Whether that is posting high-quality graphics or optimised, thought out paid ads. We make sure we continually post relevant content that is going to drive traffic to the website. But, we also take advantage of social sharing.
Wondering what social sharing is? Let us explain. When one existing client of DJL UK likes a post, their friends then see this. If any of these then give it a thumbs up, their friends are visible to the campaign too, and so on, and so on! You get the idea.
Therefore, over the past 6 years, we have made sure to continually post regularly to build awareness and get DJL's 'foot in the door' with multiple clients. A mix of highly visual images to inspire customers, promotion graphics presenting discounts and humorous captions post have meant we have successfully established a brand's voice to communicate with customers.
From starting out posting to family and friends, DJL UK's social media now reaches nearly 2000 customers and achieves significantly high engagement rates daily – not bad even if we do say ourselves!
Engaging and relevant monthly blogs
Each month, our content writers, draft, publish and design engaging blogs for DJL UK that carry the voice from social media over to the website. Covering a range of topics from '6 EASY TO TELL signs it's time to replace your windows' to 'Why should I transform my conservatory? 8 Ideas and uses'.
Informative, as well as visual – blogs, are an essential aspect in retaining clients and ensuring new customers recognise you are active. Nobody wants to see a website that is never refreshed with new content!
Localised SEO Pages to reach the target audiences
DJL UK is based in Peterborough – even though this is a large area and can provide more than enough work, what about those customers that are considering a new composite door only 30 minutes away in Stamford? They're not going to see your website! Well, that's where we come in!
Monthly localised pages have allowed DJL UK's website to appear in local search results. For example, 'Composite doors in Corby' and 'Warm Roofs Stamford'. By adding new location each month, we have further extended the net of potential clients – growing the business.
Our work doesn't just stop there!
Oh, no, no, no! Geek Designs also created contemporary off-line marketing materials to promote brand identity further. The off-line marketing visuals ensured branding flows throughout every aspect of DJL, from logo incorporated contracts, on brand folders and vibrant vehicle livery.
Business guidelines were considered throughout the graphic design process, allowing us to capture the brand's character to develop a memorable offline existence.
Honestly, we're not bragging…the statistics say it all!
We delivered long-term value to DJL UK by helping them to understand and engage their customers using database insights and smart optimisation frameworks. New and existing clients continue to provide work for the DJL UK team – pretty good results we reckon.
So, overall, we can safely say we have achieved a successful website that has grown and evolved due to the beneficial, bespoke digital marketing strategy we have implemented.
What!? Don't believe us? Ask DJL UK for yourself!
"Several years ago, we came to Geek designs and instantly, they understood what we wanted! We wanted a thriving business, and we've got it! The whole team has contributed to the success of the company today - from our fantastic website to managing our social media account. We have full trust that Geek Designs knows our business inside out to deliver results continually. A massive thank you Geek Designs - we wouldn't be where we are today without your help!"

Dan Woods

Owner of DJL UK
See what we have done for DJL? We could do the same for you. From humble beginnings to the present day, we will forever grow your business, refresh content and make sure you are reaching customers, and enticing them onto your website.
Contact a Geek today. What's the harm in dropping us an email or giving us a bell if you're curious? Hint: there isn't any!
speak with geek
Fill out the details below and we will get back in touch with you with a quotation!