Technology, you're either sick of it or excited by it. Mobiles have become one of the most infamous things about humanity. Since their invention has enabled the world to connect as one.
Mobile phones have shaped the digital world immensely and now, mobile responsive websites rule the Google search results.
In recent studies, researchers found an important factor that many always miss – how the user holds their phone. Yes, it's all great creating a great user experience but do we really do it for everyone?
People have adapted to the mobile phone profusely, with users handling the device differently to maximise comfort and readability.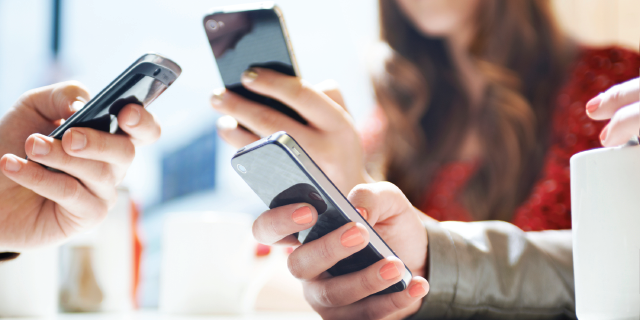 In this blog, we'll be discussing which audiences prefer which type of mobile responsive designs. Websites need a mobile view in order to rank effectively on Google and provide a seamless user journey to its users. Have you provided the best UX for the type of customer you sell to? Find out.
49% of mobile users operate the device one-handed.
That's correct, the majority of mobile users today use their device, one-handed. However, what type of customers would you expect to find in this group?
Firstly, you can expect to find your teenagers and tweens in this quartile. The younger generation has adapted to the quick and effortless use of technology, as they're the most common users of it today.
If your target customer is that of a younger persona, then it's key that you research their behavioural patterns when it comes down to mobile responsive design.
Almost half of all mobile users result in using one hand to navigate Google and websites. If you or your web designers are optimising your website, it's efficient for you to follow the diagram shown.
A large percentage of young users will only use a small section of the mobile screen to scroll; this forms from the bottom left-hand corner into the middle.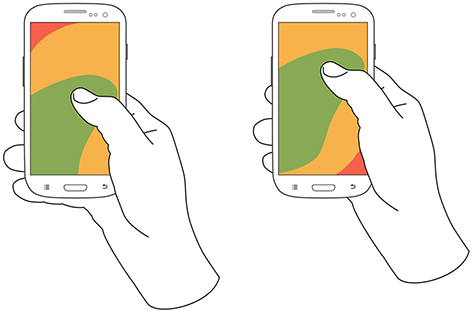 Mobile responsive websites are predominantly designed for one-handed users.
The green area is the section that is easiest to access. This area is where you should include your CTA (call to action) as it'll be much easier for the user to reach them. Due to the ease of access, this will prompt them to take action.
Next, you have the orange area, which is the majority of the top of the mobile screen and a small section in the right-hand area. It would be most suitable to include your text or interactive elements here, as the user can still use these areas.
There is a small 'unusable' area of the phone at the very bottom of the phone. This is where you should keep other imagery, any elements that the users don't have to interact with.
You can expect to find your 18-30-year-olds within this 49%. Therefore if you're in the industry of technology, fashion or social media – you should definitely consider optimising your website for this particular type of mobile responsive design.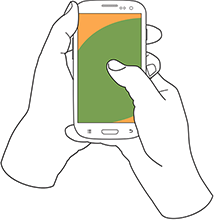 Within this gap, you can expect to find your 35-55-year-olds, most to which will commit to using one hand to support the phone and the other to navigate.
These mobile users have access to the majority of the mobile screen, especially the middle section. The top left hand and bottom right corners are the least accessible, however, you have most of the scene to work with.
Here you will find your more mature demographics, therefore a lot of industries will need to consider this specific UX design.
You get the most of the screen by optimising your website for cradling phone users, thus accommodating the mature demographic.
Since the majority of the centre is easy to use, it would be easy for you to be innovative with your CTAs and scrolling interactions.
15% use two hands to scroll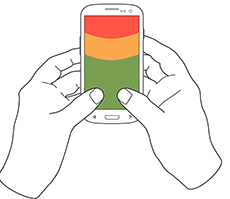 A small percentage of mobile users result in using both hands to navigate their mobile phone. This is a small population, however, in this group, you will find over 55s and people who aren't as familiar with touchscreen mobile phones.
In this category, the bottom half of the mobile phone is the easiest area to use, therefore you should put the most actionable elements in this section. It becomes increasingly difficult to use the site as we travel up the screen.
The older generation is much more patient with technology and therefore will use the majority of the bottom screen and navigate with both hands to ensure smooth movement throughout.
What about left-handers when it comes down to UX design?
All of these percentages apply to the right-handed population however, each of these diagrams is the opposite if they are left-handed. However since 5% of the world's population is left-handed, it is more advised to optimise your site for right-handed customers. UX design is all about appealing to the general population and providing seamless interactions online.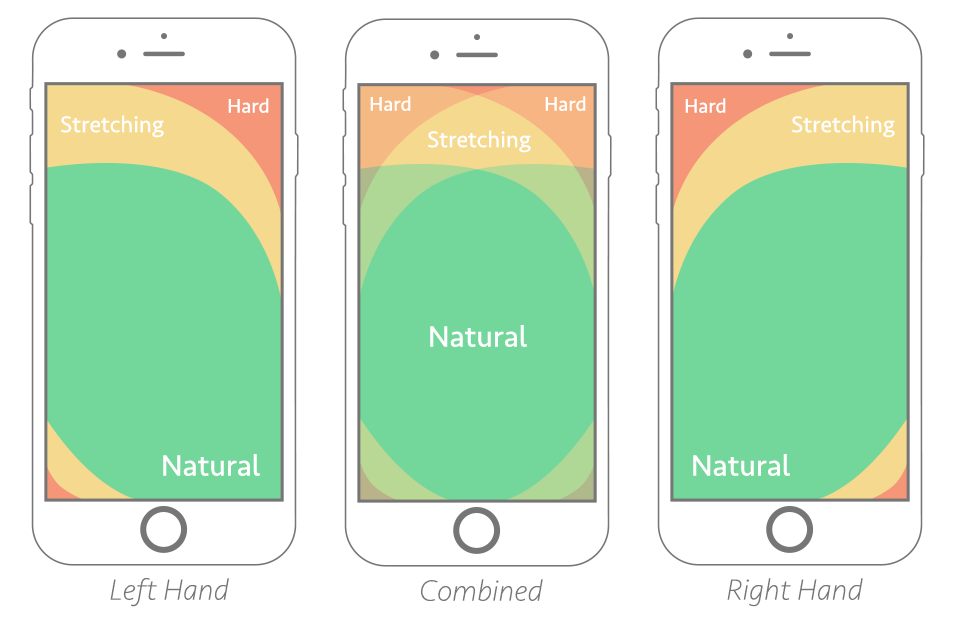 94% of people hold their phone portrait.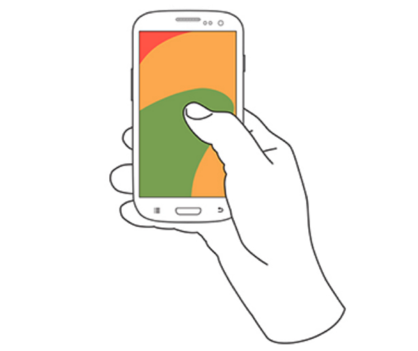 It's important that if anything, you optimise your site for a portrait perspective rather than landscape. People will use their thumb to navigate most of their phone, remaining in the middle of the screen for the best comfort. It's best to keep away from using the top and bottom half of the phone, as most mobile users will consider this poor user experience.
6% hold their phone landscape.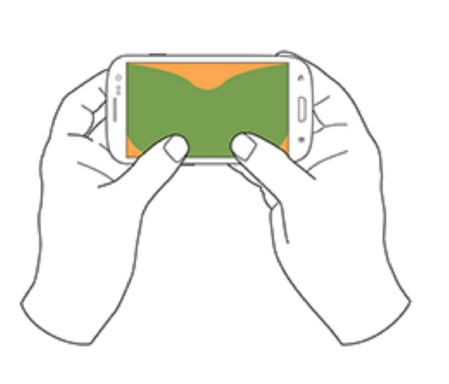 It's rare but possible. Some mobile users access their phone for landscape view, using both of their thumbs to navigate. Businesses who are using apps, games or offering a read should consider optimising their site for a landscape perspective. It can be more costly and time-consuming however the end result will benefit your customer. A happy customer means a much more likely sale.
Sometimes people use the entire screen.
Every so often, you will find the minority of users who use a mobile, very precisely.  These people cradle the phone in one hand and use their forefinger to scroll and navigate.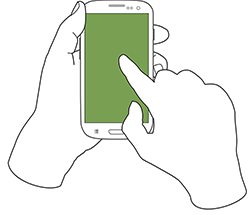 These users use all areas of the touch screen, everything is within easy access. This allows for websites to implement elements freely without interactive content being in inaccessible areas. The more screen you have to work with, the easier the mobile responsive websites are to generate.
As you can see, there are many factors to create mobile responsive websites.
As a business owner, you know your preferred customer better than anyone; you know exactly what kind of person you want to walk through your door.
Using that knowledge, search this blog to find the age demographic you want to market towards. There are so many different mobile users, each of which uses their device differently from the other.
If anything, what we recommend as UX designers, is optimising your website predominantly for portrait users and centralising your actionable items.
I know that many people will consider mobile optimisation time consuming and pointless but that's far from the case. You want to deliver a website that provides a clear and thorough customer journey and if you haven't provided one, they may go elsewhere.
speak with geek
Fill out the details below and we will get back in touch with you with a quotation!