It's every business' dream to sit at the very top of the Google search engine and steal the spotlight from their competitors. However, what we know to be position 1, has been replaced.
When you ask Google a question, usually a box will appear in the search results at the top of the listings providing an immediate answer to your query. This informative box is known as a 'featured snippet.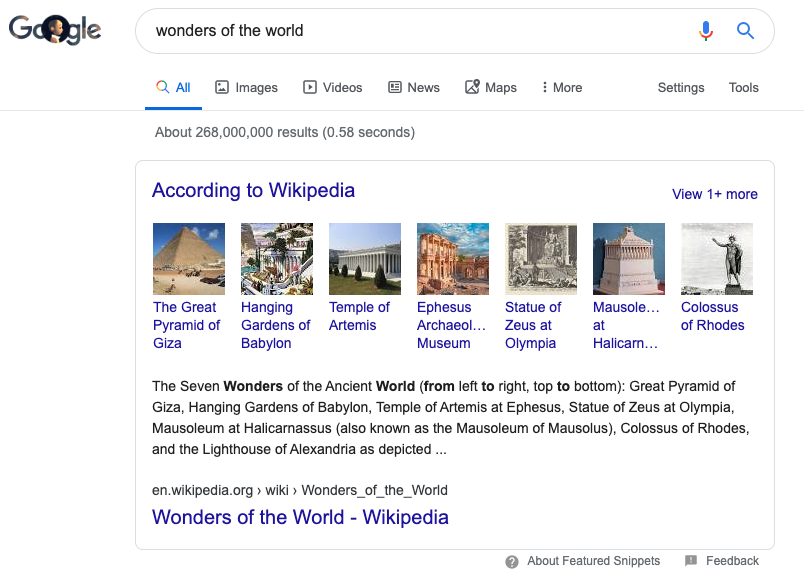 Beforehand, websites that were in a featured snippet would also organically rank on page 1 too, however recently Google has listened to complaints and has 'deduplicated' these search results. This means if a business is featured in a snippet, they won't be found on page 1.
How can a featured snippet benefit you?
There are a lot of benefits associated with ranking as a featured snippet. Many of these advantages are what businesses fight for on the daily, but by focusing on appearing in these information boxes you can expect to:
1. Steal traffic from the first organic result.
Although a study shows that 26% of searchers click through to the first organic result, another 8.6% of people click through to the URL in the featured snippet. This means the 'box' does steal some clicks from the very first result. So in most cases, ranking for this
It also doesn't matter if you rank page 2 or 5, you can still rank for the featured snippet, making it a cunning way to get to page one.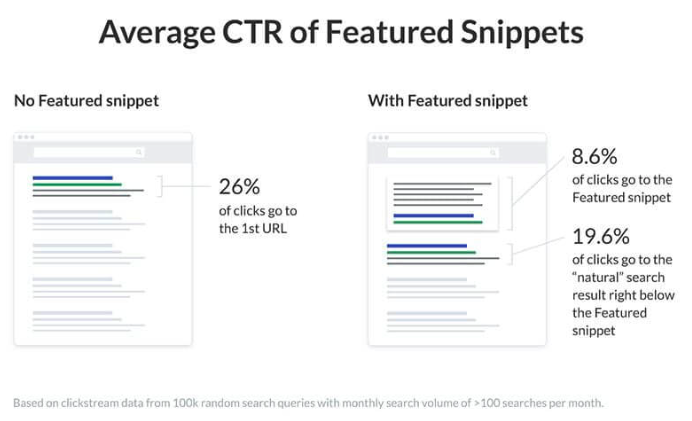 2. Optimise your business for voice search.
If you think voice search isn't important right now, then think again, come the rest of 2020 50% of searches will be made using voice-controlled PA.
More and more people are turning to voice assistants on their phones. It makes sense to try and rank for featured snippets when most Google search queries are genuine questions.
3. Customers consider you a trusted expert.
If you're at the top of organic search results, people usually immediately trust you. But to be shown in a rich or featured snippet gives you greater credibility. Your advice (Although it should be) is seen as authentic and people usually take the information provided in a featured snippet, sometimes without even navigating to any other site.
How do you rank for a featured snippet?
There are a couple of ways that you can optimise your content to rank for a featured snippet. Since people are asking simple questions, you will need to provide simple answers. This includes keeping the word count minimal, researching common questions asked by the public and ranking your website organically higher. 
1. Do keyword research and aim to cover question-based search queries.
We quite often create content that is engage and formative for the reader, but we don't tend to offer answers to questions that people may ask. If you want to be discoverable for a featured snippet, an ideal place to start is by optimising your copy for questions above anything else.
2. Browse the 'People Also Ask' boxes
When you ask Google a question, a featured snippet quite often gives an initial answer. However, if you scroll down slightly more, you will see 'People Also Ask' boxes with similar questions.
Here you can find common questions that searchers ask, and you can choose to create content to accommodate these.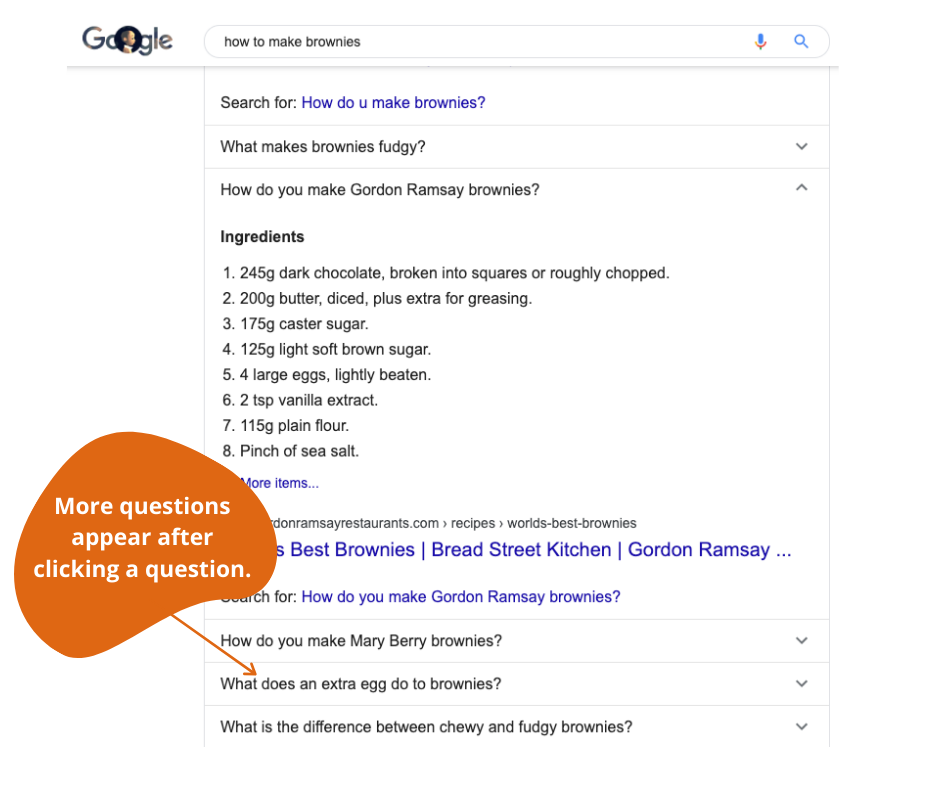 3. Aim to rank on the first page of Google search results.
Being on the first page of the Google search results gives you an increased chance of being featured in a snippet. The majority of featured snippets are found on the very first page of Google SERPs.
Ways that can help rise your SEO performance includes:
Diagnosing SEO problems and fixing any penalties
Update your website
Link-building
Improve website speed.
Get SSL for your site.
Optimise your images
Make your pages user-friendly.
4. Add a questions and answers page to your website.
If you are offering products and/or services, a Q&As page is the perfect way to generate trust with your customers. Mostly importantly, these answers have a chance of being transformed into a featured snippet as more people begin to find the answers they need on your site. But remember to keep the answers straight to the point and as a short paragraph.
If a questions and answers page doesn't suit you though, just follow the other steps mentioned.
5. Use the inverted pyramid format
The 'inverted pyramid', also known as the 'inverse pyramid' is a style in journalism that tells us how interesting content should be structured. Start off by giving the answer directly, and then continue the article with details that explain the reasons behind the answer.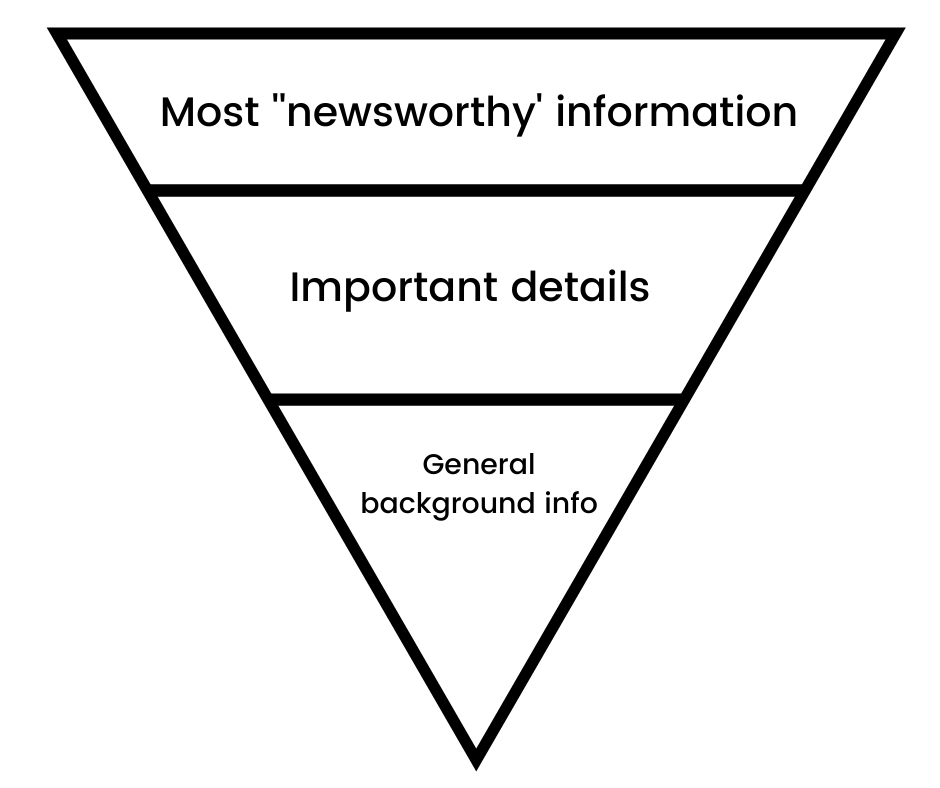 Now to sum featured snippets up.
So if you want to increase your online visibility and get better traffic for your website, it's a good idea to work towards finding yourself on a featured snippet for a popular search query.
With featured snippets coming above the general organic results, it's always good to aim high, especially when it comes to the Google search result pages.
speak with geek
Fill out the details below and we will get back in touch with you with a quotation!